About Us
Find your local Culligan Water expert. We look forward to hearing from you!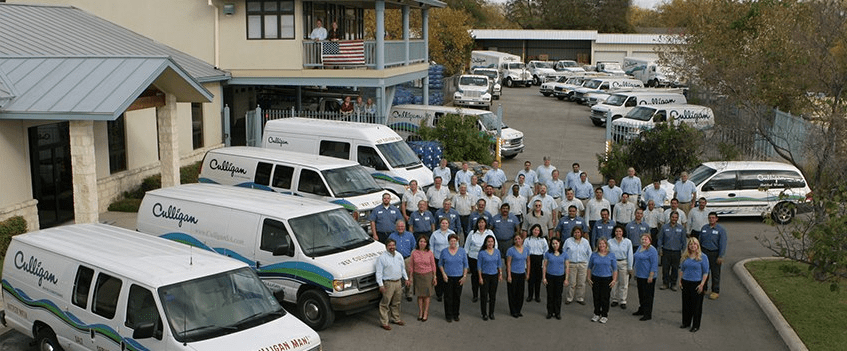 We are Culligan Southwest, your water technology experts proudly serving south and southwest Texas. Our dealerships specialize in providing water softeners, reverse osmosis systems, water coolers, bottled water, water filtering and softener salt delivery services to the area.
CULLIGAN SOUTHWEST HISTORY
When Wilbur Walton founded the first Culligan dealership in Wheaton, Illinois in 1938, service men delivered large, bulky portable tanks and installed them in basements to provide residents soft water.
Today, the San Antonio-based company Culligan Southwest - now owned by Walton's grandchildren, Bob Boerner and Kristi Stanford - offers household and businesses advanced and innovative technologies to purify water, including reverse osmosis, ultraviolet light and deionization, in addition to the original water softening.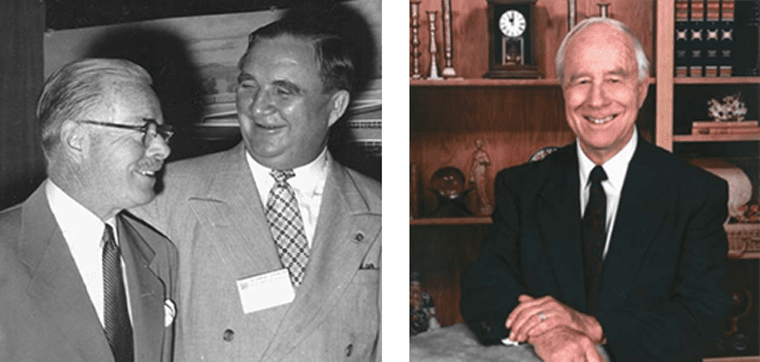 Siblings Boerner and Stanford have seen the company evolve over the decades since first working for Culligan Southwest, then under the leadership of their father, Gilbert W. "Gib" Boerner who died in 2002. Boerner came aboard in 1977 while studying environmental science in Ohio and Vermont. Stanford joined in 1986 soon after earning an international studies degree at Southwestern University in Georgetown.
"We weren't just given a job," recalled Stanford, company vice-president. "My first year was spent training. I did payroll, accounts payable. It was all manual back then. I didn't have a computer. It was all typing and doing general ledger codes."
She has been an active member of the Downtown Rotary Club of San Antonio for 26 years and serves on publications committees of the Texas Water Quality Association and the Culligan Dealers Association of North America (CDANA).
Boerner, meanwhile, started in the Kerrville office. "You had to go out and sell or rent a water softener, then install it," he said. "And you might have to go back and service it, and possibly collect money from customers down the line. There was, and is, no better training ground than being at a dealership where you have to do everything."
Like his father before him, Boerner is active in water quality legislation issues and has served as the Government Relations chairman of the Texas Water Quality Association for more than 10 years. He is also involved with the International Water Quality Association's Water Science and Governmental Affairs committees, and helped oversee a 2011 study at Virginia Tech that affirmed the compatibility of efficient DIR (Demand Initiation Regeneration) water softeners with septic systems. Culligan also supports efforts to conserve water supplies and advocates for initiatives that expand supplies, such as rainwater catchment.

Boerner and Stanford oversee operations of all four Culligan Southwest dealerships: San Antonio, Kerrville-Boerne, New Braunfels-Seguin and Midland-Odessa. Combined, they employ a staff of 110. In addition to impacting communities they serve by providing jobs, the company is proud of the fact that they truly save customers money by preventing damage to plumbing systems and appliances caused by Texas' hard water, which Boerner says is some of the hardest in the country.
Culligan has expanded beyond residential service. The commercial side of the business has taken off tremendously over the past few years, including work in the Eagle Ford Shale, said Bill London, chief operating officer, who has been with the company for 38 years. Culligan Southwest designs and builds water treatment systems for hotels, hospitals, laboratories, manufacturing facilities and others.
Latest
Blog Posts
How filtered is your tap water? Find out with a free water test from your local Culligan Water expert. FREE
Our story begins in a hospital boiler room over 80 years ago. Let's dive in. Who created Culligan Water? Emmett
Outstanding service and products! Matt Smithey was very straightforward and honest. Not trying to oversell me. My installers Jesse and Foster were very knowledgeable and very respectful. They made sure I understood my system completely before they left.

Raul Ramos
- Culligan Customer